Replacing your existing lighting with new LED fittings has the advantage of reducing your energy usage by up to 59%- You will see an immediate and significant reduction in your electricity bills and also the ongoing advantages of reduced maintenance and replacement costs made possible by a greatly increased lamp life of the new LED (50,000 hours)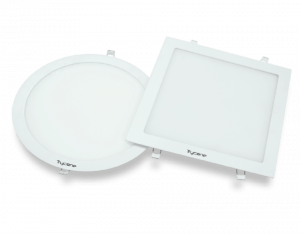 No Flicker
No UV
Low Maintenance
No Mercury or Phosphor
Payback can be less than 2 years
Our LED lighting division can offer our specialist design, supply and installation of domestic, commercial and industrial LED lighting solutions. Our fully lighting design team ensure that we focus on reduction of energy costs whilst maintaining the required standard maintained luminance according to the latest CIBSE guidelines.
LED lighting is proving to be a very efficient modern alternative, and has many benefits, over traditional light sources. The most apparent advantage of LED lighting is the reduction in power consumption; LED luminaries are much more efficient and therefore can significantly reduce your buildings overall power consumption.
With an average operational life span of 50,000 hours, the LED technology means reduced maintenance and re-lamping costs – this is particularly relevant in areas that require the hire of access equipment to allow the change of lamps. 50,000 hours equates to 11.42 years if the luminaries are illuminated 12 hours a day.
A further advantage is that LED is able to achieve 100% light output instantly, unlike traditional discharge lighting and fluorescent lamps that take time to warm up to achieve their optimum light output. The LED technology is also able to switch on and off frequently without causing any detriment to the chip or light engine.
These two characteristics mean that the LED luminaries are ideal to be used with presence detection lighting controls, meaning that an already efficient lighting installation can be improved even further.
In addition to this, the LED light sources operate at a much cooler temperature than the traditional lamps. Consequently, this can reduce the amount of energy used by air conditioning units in controlling air temperature.
The benefits of LED lighting alone have their own merit, however coupled with Solar Energy, we can offer a complete package which is not only beneficial to the end user but to the environment also. Quality & Environment
As a provider of LED lighting products LED supplies has a huge responsibility to offer goods that are not only designed with quality and cost in mind, but also LED products which have the most positive impact possible upon their environment throughout their lifetime and beyond.
Libra can offer a full exchange of the 12W LED DD Lamp is a retrofit replacement to a 28W fluorescent DD lamp, without changing the complete fitting.
Libra can offer you a full energy report on the way your client will save money on their electric bill and let you know how much you will save and how quick the return will benefit your client.